April 25, 2009 | By UM Communications Staff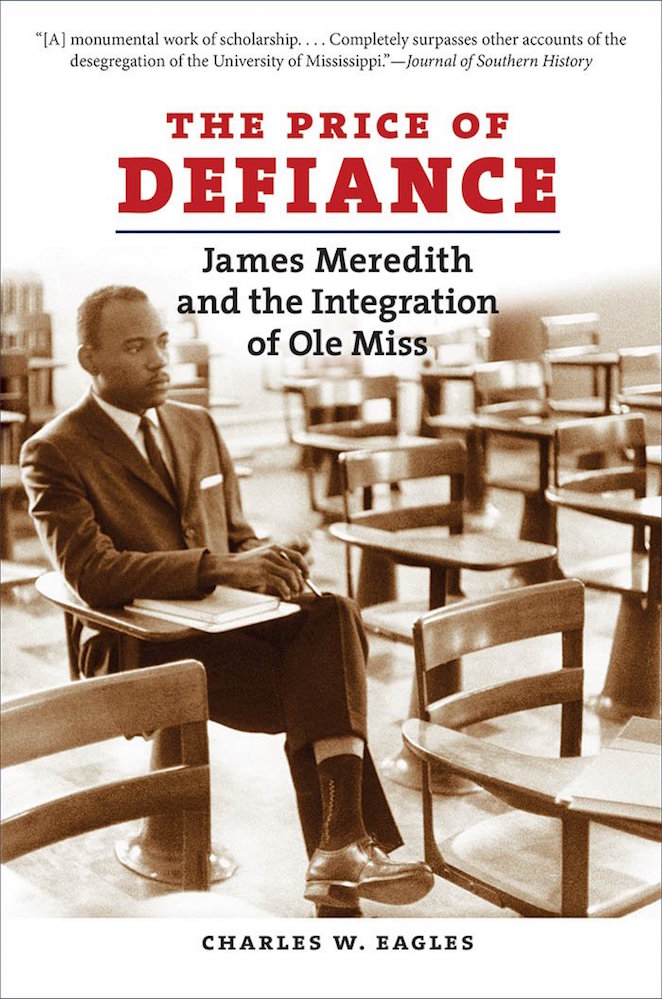 Many facts about the integration of the University of Mississippi have remained unknown to the public for more than 45 years. That's because key details of the story, including James Meredith's daily life as a student, have been locked away in file cabinets and unexplored archives.
That is, until now.
With his new book, "The Price of Defiance: James Meredith and the Integration of Ole Miss" (University of North Carolina Press), UM history professor Charles Eagles provides an unprecedented look at the circumstances and events leading up to that fateful day in October 1962, when Meredith became the university's first black student.
"It is the most important event in the history of the university," said Eagles, UM's William Winter Professor of History. "Every book on the civil rights movement or the Kennedy administration discusses it."
In "Price of Defiance," Eagles delves into Meredith's experience as a student, devoting two chapters to the topic. How detailed? For starters, Meredith lived in a corner apartment of Baxter Hall. "It was at the very edge of campus," Eagles said. "Part of that was for his own security, though."
Syndicated Mississippi columnist Bill Minor, who reported on the state during those tumultuous times, wrote in a recent column: "None of the many books produced since the 1962 Ole Miss-Meredith crisis paints, as Eagles does, the intricate portrait of who James Howard Meredith really was. His work provides a perspective only a dedicated historian can do."
Former Gov. William Winter became a champion of moderation in resolving Mississippi's racial issues during the 1950s and 1960s, a legacy that lives on at UM's William Winter Institute for Racial Reconciliation. As an eyewitness to the turbulence during those years, Winter hails "Price of Defiance" as a definitive account of Meredith's admission.
"If one is seeking a single book that details most vividly the fanatical intensity of the struggle to maintain racial segregation in the South, this is that volume," Winter said. "It is a remarkable and well-researched chronicle of the historical, political and social forces that lay behind the violent confrontation at Ole Miss."
Eagles' latest work is certainly not the first book about UM's integration. What sets it apart is that in his meticulous research dating back more than 15 years, Eagles uncovered sources and documents that revealed untold aspects of the story. From the beginning, he benefited from unprecedented access to university files, made available by former UM Provost and English Professor Gerald Walton. The story Eagles discovered became increasingly large and complex.
"One strand would raise questions that caused me to look at other issues," Eagles said. "It became a huge puzzle, and I had to figure out how it all fit together."
In sorting out the pieces, Eagles uncovered how UM became of symbol of racial segregation for the entire state.
"I learned the power of white supremacy in Mississippi in the 1950s and 1960s; the public pressure on the institution to maintain segregation was tremendous," Eagles said. "The uprising was a culmination of a long line of controversies dealing with race, politics and the university that had been building for more than a decade."
AWARDS & DISTINCTIONS
2010 Lillian Smith Book Award, Southern Regional Council
2010 Mississippi Institute of Arts and Letters Award for Nonfiction
2009 Mississippi Humanities Council Special Recognition Award
2010 McLemore Prize, Mississippi Historical Society