African American Studies Student Ambassadors
Amya Franklin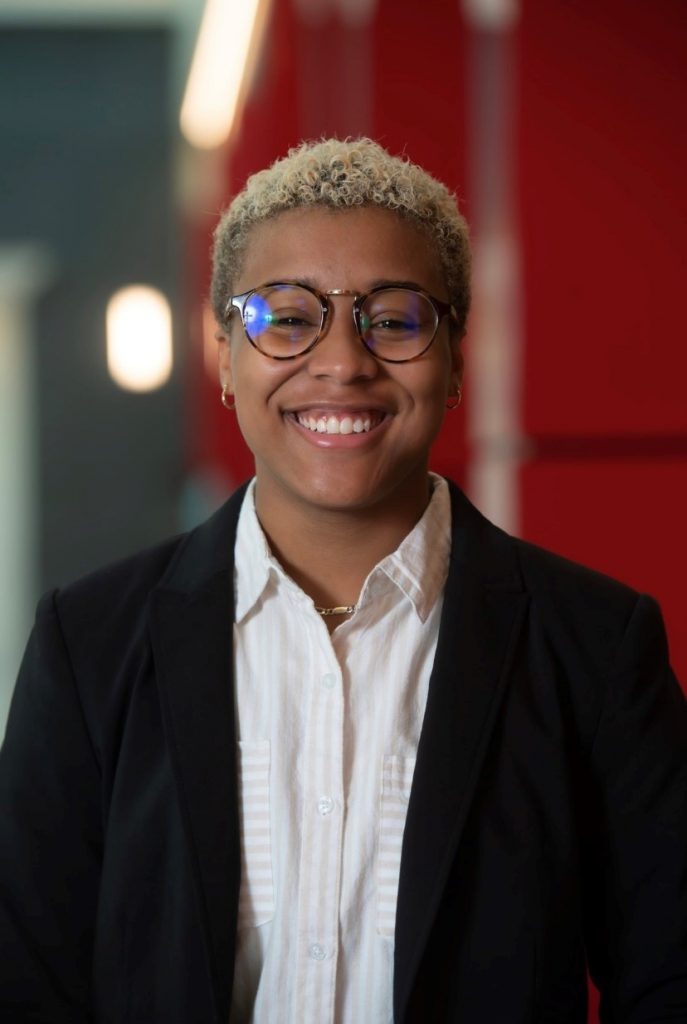 Amya Franklin first attended Northwest Mississippi Community College and acted as the Vice President and coordinator of NWCC's chapter of the Phi Theta Kappa Honor Society. Now at UM, Amya is majoring in African American Studies and Classics and is a member of the Sally McDonnell Barksdale Honors College. After graduation, she hopes to pursue a PhD in Sociology with an African Studies Concentration.
Why did you choose to attend UM?
To be totally honest, I wasn't planning on coming to the University of Mississippi at first. There were just so many things about it that made me question whether or not it was the institution for me. I went to Oxford High School right here in Oxford, Mississippi, so I was right near the heart of the University. But, I was only on the outside looking in. My second semester of freshman year at Northwest Mississippi Community College all of that changed. My mentor, Bruce Ware, introduced me to Dr. Ajootian and Dr. Edney on my real first visit to campus, and if you know these two professors then I'm sure you know how my world changed in those moments. It was jarring to meet people so devoted to the betterment of not just learning and academia, but also the world as a whole. Their words in that small conversation were essentially a parallel to the codes of conduct that I live and love by. I could tell that those two professors sitting with me out on the Circle beneath the trees were a testament to the incredible dedication, resources, advancements, and promise that I would be met with at the University of Mississippi. That moment convinced me that this was the place for me.
When and why did you choose your major(s)/minors?
I've always been interested in history and writing pursuit of history & the betterment of our collective future. I just wasn't sure where that (and all of my other interests) put me as a student in the expansive (and constantly expanding) world of academia. When I met some of my mentors here at UM, I saw all of these possibilities and I thought to myself "why not cultivate a space where your interests meet and intermingle in a way that not only opens doors, but has the capacity to widen the views of modern history?" And, so I chose the two of the most influential cultures to every exist to study: Greek & Roman history and the history of people of African descent. Two cultures that so greatly impacted (and still continue to impact) this world being studied in tandem has the potential for incredible academic exploration and, in turn, astonishing historical findings leading to the advancement of society as we know it today. I chose these majors because I believe in the betterment ofthe world around us through learning everything we can about the experiences and interactions that it's made of.
Career goals?
I hope to get into a graduate program after I leave here and get a master's degree in either history or creative writing. Soon after, I want to get a PhD in Sociology with an Africana Studies Concentration and later pursue a Civil Rights JD. Outside of academia, I genuinely just want to do whatever I can to make this world a better place.
Have you had an experience that made you feel empowered at UM?
Yes, I have. One of my most empowering experiences unfolded very recently. First, here's some background information about me: Some of my biggest moments in life have been those that've shifted my narrative about mental health & trauma in life. As a relatively recently diagnosed neurodivergent person, it has been a huge part of my life unpacking trauma around my disability and learning more about what it means for me as a person. The experience that I'm referring to was the very first time that I'd ever reached out to Student Disability Support Services about accommodations and I'd never met anyone in the SDS office before. I spoke with Corey Blount and the first words out of his mouth after I'd rambled on and on about how I wasn't sure if I was allowed to ask for accommodations were "it is your civil right to ask for what you need in this world." It was probably one of the most empowering conversations that I've ever had in my life.
Is there a professor who has been particularly helpful to you?
So many of the faculty and staff here at UM have been more than hospitable and considerate towards me, so that's a tough question. I'd definitely like to highlight that Dr. Derrick Harriell welcomed me so warmly to the African American Studies program and that's a big part of why I want to be an ambassador. I wanna give students and parents that same warm, eye-opening welcome to the African American Studies program.
What are you binge watching/reading/listening to?
I just recently started the award-winning podcast Ear Hustle. This podcast takes you into every-day prison life and presents remarkable stories of those living through it and after it. The hosts, Nigel Poor and Earlonne Woods, are funny, light-hearted and honest, which brings so much ease to the listening experience. And, while there's so much ease to listening, these stories are incredibly raw and sometimes difficult to conceptualize as a non-incarcerated person. This podcast does a beautiful job of debunking some of the myths about prison life and re-humanizing those who experience it after the media and prison has done so much to take away their stories and voices.
What do you want to change about the world?
I'd like if we, as a society, brought a lot more attention and emphasis to the importance of empathy. Not just how we experience it, but how we teach it, cultivate it, disperse it, view it, and implement it into the things that we deem profitable. I think it'd change our world entirely.
Frederick Williams
Frederick is pursuing a B.S. in Legal Studies and a B.A. in African American Studies with a minor in Political Science. In 2021 he interned with the District Attorney's Office. On campus he is involved in the UM NAACP, UM Black Student Union, Alpha Phi Alpha, and is a UM MOST Mentor.
Why did you choose to attend UM?
I chose to attend the University because of the environment on campus and the resources that are available to students that attend. The MOST conference also played a major role in me making UM my home.
When and how did you choose your major(s)/minor(s)?
Initially, I was a Legal Studies major, but after gaining more experience and learning more about myself, I decided that these two majors would allow me to further my education in diverse fields that interest me, while still having the possibility to pursue law after graduation.
Why is your department a special place?
My department especially, African American Studies, is a special place because it's a small community of likeminded individuals.
Can you tell me about a professor or a class you've taken that has had the most impact on you?
The class that guided me to both of my majors was African American Politics, taught by Dr. Marvin King. That class was so amazing and drew my interest into both of the fields that I chose.
What do you hope to do after you graduate? What are your career goals/ plans for postgraduation?
I plan on going to either law school or pursuing a master's and a doctorate in the fields of my study then going into higher education. I would also like to be the first African American governor in the state of Mississippi.
What is your go-to meal in Oxford?
A Chicken Bowl from Qdoba or Chipotle, preferably Qdoba.
What is one thing you wish you knew as an incoming freshman that you'd tell your past self (about the general college experience)?
The advice that I would give to an incoming freshman is to come to school with an open mind and to get involved. There are tons of student organizations and I guarantee you that at least one of them has something that you are interested in.