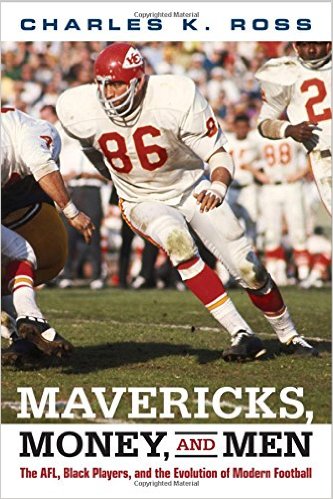 By Charles K. Ross, professor of history and director of African American Studies
Temple University Press, 2016
The American Football League, established in 1960, was innovative both in its commitment to finding talented, overlooked players—particularly those who played for historically black colleges and universities—and in the decision by team owners to share television revenues.
In Mavericks, Money and Men, football historian Charles Ross chronicles the AFL's key events, including Buck Buchanan becoming the first overall draft pick in 1963, and the 1965 boycott led by black players who refused to play in the AFL-All Star game after experiencing blatant racism. He also recounts how the success of the AFL forced a merger with the NFL in 1969, which arguably facilitated the evolution of modern professional football.
Ross shows how the league, originally created as a challenge to the dominance of the NFL, pressured for and ultimately accelerated the racial integration of pro football and also allowed the sport to adapt to how African Americans were themselves changing the game.
REVIEWS
"Although other writers have explored the history of the American Football League, Mavericks, Money, and Men is the most extensive treatment of the league to date. Linking the history of the AFL with a number of key developments in American society and culture, Ross skillfully synthesizes an array of personal memoirs with a wide range of compelling anecdotes. Archival materials also illuminate the internal workings of the AFL. Mavericks, Money, and Men is a valuable narrative history that captures key moments in the development of the nation's most popular sport."
—Gregory Kaliss, author of Men's College Athletics and the Politics of Racial Equality
"[T]he emergence of the American Football League (AFL) created an excitement unmatched in professional sports…. Ross focuses on the league's recruitment of black players from historically black colleges and universities (HBCUs) such as Grambling State, Florida A&M, and North Carolina Central…. [Ross] aptly documents the evolution of the current NFL and how the integration of professional football paralleled the social integration of American life. VERDICT An important chapter in U.S. racial history of the 1960s. Recommended for all collections."
—Library Journal
Dr. Ross is the author of Outside the Lines: African Americans and the Integration of the National Football League (NYU Press, 2001) and the editor of Race and Sport: The Struggle for Equality On and Off the Field (University Press of Mississippi).