Timeline of African American Experience at UM: 1980s
TIMELINE
pre-1950 | 1960 | 1970 | 1980 | 1990 | 2000
History of African-American Studies Program
---
---
JOHN HAWKINS
In the spring of 1982 John Hawkins was elected the University of Mississippi's first African-American cheerleader.
During the summer of that year, he announced in an interview that he would not carry the confederate flag during a game. Hawkin's refusal to carry the flag incited a heated debate, and the controversy intensified when the head football coach suggested that the university should add "UM" or "Ole Miss" to the confederate flag. The university considered using the state flag, but a number of students and alumni protested. In response, college officials agreed to have only one student carry the flag. During the controversy, the Ku Klux Klan held a rally in Oxford in support of the flag, and around 30 Klan members marched to the town square carrying confederate flags before nearly 450 onlookers. By the end of March, 1983, Hawkins decided he would not try out for the following year's cheerleading squad.
A New Age for Hawkins, The Daily Mississippian, April 23, 1982 >>
Hawkins Responds to Press, The Daily Mississippian, September 2, 1982 >>
Klan Demonstration Calm, The Daily Mississippian, October 25, 1982
---
JENNIFER GILLOM
In 1986 Gillom won a gold medal at the World Championship and Goodwill Games and was named the Mississippi Sportswoman of the Year. In 1987 Gillom won another gold medal this time at the Pan American Games, that year she also became the first African-American female selected as SEC Female Athlete of the Year. The following year in 1998 she became the first African American female student from the university selected to play on the U.S. Olympic team where she won her fourth career gold medal. She began her professional career playing in the Italian League where she played for several years. In 1997 she joined the WNBA team the Phoenix Mercury. She was named to the 2000 All-Star team and in 2002 Gillom was awarded the Kim Perrot Sportsmanship Award. In May 2003 she became a member of the WNBA team the LA Sparks.
The University of Mississippi named sports complex is named after Jennifer and her sister Peggie Gillom.
---
DAMON MOORE
An honors graduate in 1986, Damon Moore was the first African American and 23rd student from the university named a Rhodes Scholar. Moore attended John Hopkins Medical School and is a pediatrician.
---
AWARDS OF DISTINCTION
Created in 1987, Awards of Distinction honor six African Americans native to Mississippi for outstanding records in achievement.
First year recipients were Reuben Anderson, Richard Wright, William Raspberry, R.L.T. Smith, Beverly Hogan, and Aaron Henry.
Other honorees have included : Robert Clark, Robert Gibbs, Fannie Lou Hamer, Bishop Joseph Howze, Charlie Pride, Betty Williams, Mike Espy, Medgar Evers, Robert harrison, Claire Collins Harvey, Robert walker, Ben Williams, Margaret Walker Alexander, Osborne Bell, Sister Thea Bowman, Constance Slaughter-harvey, Walter washington, Patricia Wise, Jessie B. Bryant, lawrence C. Jones, barbara Ricks, Walter Turnbull, Gary Turner, George Watson,R. Jess Brown, Earnestine E. Fountain, B.B. King, Gilbert Mason, William A. McMillan, Leonard Morris, Gary Anderson, Unita Blackwell, Mae Bertha Carter, James Earl Jones, Lucius L. Williams, Jr. Early Wright, Walter Massey, David Beckley, Leslie D. King, Frank E. Melton, Leroy Waddlington, Franklin D. Williams.
---
CARL POWELL
In 1989 Carl Powell was elected ASB Treasurer making him the first African American elected as an Associated Student Body Officer.
---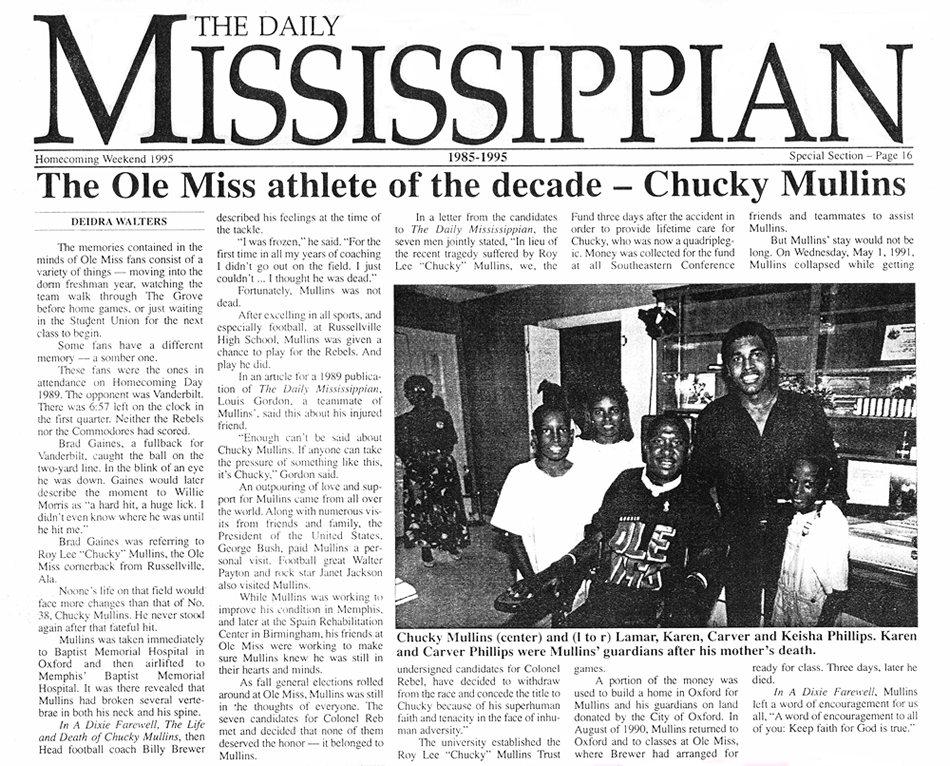 ROY LEE "CHUCKY" MULLINS
In 1989 Chucky Mullins was injured during the University of Mississippi homecoming football game with Vanderbilt. The Russellville, Alabama native suffered a neck injury that left him paralyzed from the neck down. In May of 1991 Mullins died from a blood clot in his lung. In his honor, the university created the Chucky Mullins Courage Award which is given to a senior defensive back who has the honor of wearing number 38, Mullins jersey number. In April of 2002 the Sigma Nu Fraternity presented Christopher Reeve with a number 38 jersey and donated $50,000 to the Christopher Reeve Paralysis Foundation (CRPF) in honor of Mullins.